Hope Honey's small batch soaps are handcrafted using the highest quality ingredients including therapeutic quality essential oils and palm oil certified by the Roundtable on Sustainable Palm Oil (RSPO). Our beeswax is always local and we use Certified Naturally Grown beeswax from our own apiary whenever possible. The honey used in our products is also Certified Naturally Grown using honey from our own apiary. For soaps containing propolis,* this is also collected from our own hives.  Each and every product contains something from the beehive – beeswax, propolis, and/or honey.  Here is a sampling of our soap varieties, please remember some are available seasonally.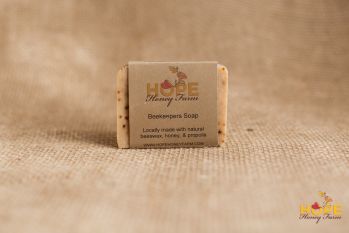 Beekeepers Soap – handmade with beeswax, Certified Naturally Grown honey and propolis. The brown flecks in the soap are propolis and provide very mild exfoliation. Lightly fragranced with Vetyver which is somewhat floral with hints of lemon, rosemary, sandalwood and patchouli. It is somewhat musky, but not overbearing. A perfect soap for anyone - male or female.

Unscented Beekeepers Soap – the same recipe as the Beekeepers soap, but without any essential or fragrance oils. Even without the addition of fragrances, this soap smells wonderful!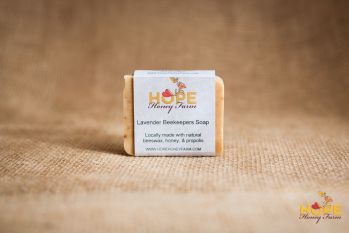 Lavender Beekeepers Soap – The same recipe as the Beekeepers soap, but made with pure Lavender essential oil. The fragrance is not overpowering, but just enough to be our best selling beekeeper recipe soap.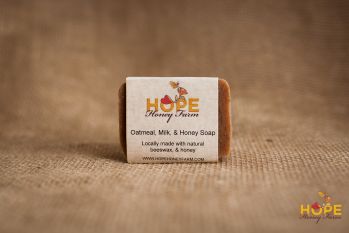 Oatmeal, Milk, and Honey – a delicious smelling soap made with Organic Milk, Certified Naturally Grown Honey, cinnamon, and ground oatmeal to provide just enough exfoliating properties to make this a best selling soap.
Cucumber Melon - Juicy and ripe, not too sweet.  The perfect scent for all seasons!
Energy – A refreshing "energy" fragrance that will wake you up in the morning, but not overpower you. The same recipe as the Beekeepers soap, but made with an "energy" fragrance oil.  A refreshing soap that will wake you up in the morning, but not overpower.
Honey Almond - a sweet smelling soap made with our Certified Naturally Grown Honey, Sweet Almond, Palm, Coconut, and Olive Oils as well as local beeswax.  It is a hard bar that lathers nicely, but is mild enough to be used as a facial bar.  This bar is scented with Honey Almond fragrance oil, which is sweet, but not overpowering.
Frozen - This fragrance is designed to mimic the feeling of peace and tranquility after a fresh snowfall. It is a very ozone-y fragrance, reminiscent of clean laundry or fresh cotton. The actual notes however are intriguing; this fragrance has a crisp heliotrope top with supporting notes of spring water, juniper berry, vetyver and sandalwood.
Pumpkin Spice – Available seasonally and made with CNG pumpkins from our urban farm!  Dark, creamy and rich, with notes of Cinnamon, Cardamom and Nutmeg, this is the quintessential fall fragrance!  We dress it up with sparkle mica swirls. 
Wildflower Honey - This true and subtle honey fragrance has a beautifully sweet aroma that smells amazing in our honey and beeswax soap! The honey and floral tones in this fragrance are well encompassed by a warm and exotic bottom note.  
White Tea & Ginger - This fragrance has a delightful warm and comforting smell. With top notes of Bergamot, Lemon Peels and Green Daylilies, this fragrance is brought back to its roots with a base of Ginger, Nutmeg and Warm Musk. White floral notes, such as Hyacinth, Freesia, and Peony complete the mix. This fragrance is unique in many ways and it is difficult to pick out individual notes when you smell the soothing blend. 
Honey Ale - This sweet beer type fragrance is a fruity and sweet mixture of Ripe Strawberries, Sweet Apples, Grape Concord, Sparkling Citrus, Honey and Spiced Vanilla. You're going to LOVE this unique blend. It's fresh, fruity and crisp!  
Honey Heifeweizen - This fabulous soap is made using Heifeweizen from Franklin's Brewery, which is located just steps away from our apiary.  This hard soap is scented with pure essential oils of Lavender, Sweet Orange, and Litsea to give it a mild citrus scent which is warmed through the addition of Lavender.  
Why We Make Soap
We have been asked why we started making soap. The short version is that we thought it would be fun to try, and we liked the product we had received at our beekeeping short course demonstration. After making a few batches and sharing with friends and neighbors, we developed a loyal following of people who wanted more. We are not sure where this journey will take us, but we expect it to remain an integral part of our beekeeping and farming aspirations! We are proud to share these products with you and appreciate your feedback. Customer satisfaction is our main goal and we offer a money back guarantee on all of our products!
Our soaps are cold-process, super-fatted, lye soaps. We make soaps the old-fashioned way, creating a natural product through saponification. Saponification is a chemical reaction between the fats (oils) and sodium hydroxide. Check here for an article on the benefits of cold-process soap and here for another article that suggests anti-bacterial soaps might not be so great.
*Bees create propolis, a natural resin, to build their hives. Propolis is made from the buds of conifer and poplar trees, beeswax, and other bee secretions.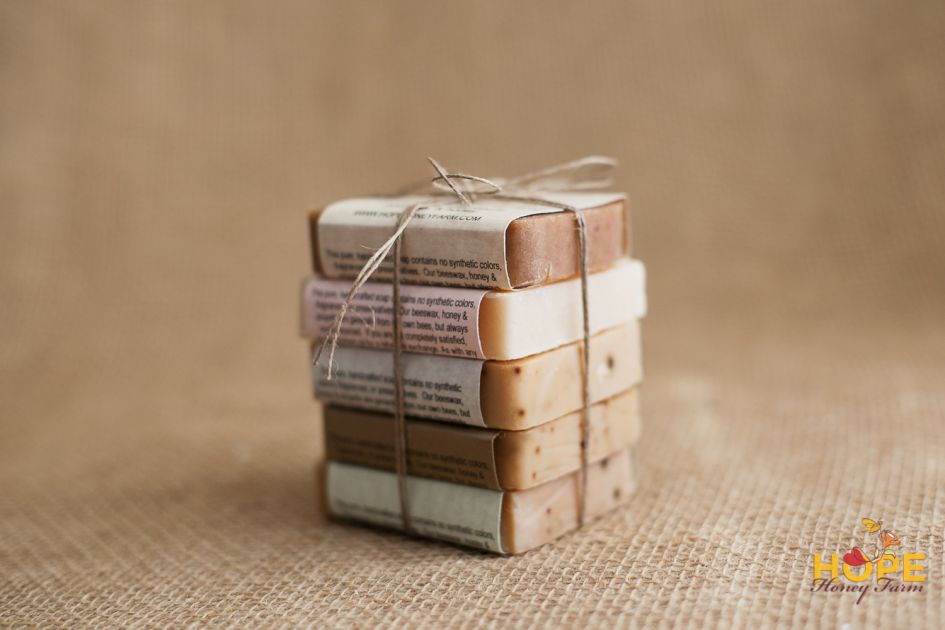 All product photos courtesy of Juliette Fradin Photography.  www.juliettefradin.com