Our lip balms are made using the highest quality ingredients and local beeswax.  We offer the following varieties: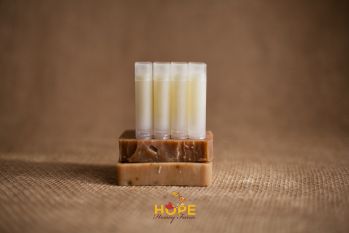 Rosemary & Peppermint Original – Some customers compare it to a well-known "bee" variety and our version has already developed a loyal following.  We make ours using peppermint and rosemary essential oils.  This balm is extra conditioning and the natural beeswax helps to lock it in. 
Coconut Lemongrass – The same formula as Original, but flavored with coconut and lemongrass. Our top selling lip balm!
Honey – Our newest variety!  A pleasantly sweet aroma that gives the comforting smell of real honey.  On track to be a best seller!
Cran-Grape (seasonal) – Not too sweet, a perfect balance of cranberries and grape.  A popular spring & summer variety.
Peppermint Cocoa (seasonal) – This lip balm is made using cocoa butter instead of coconut oil, giving it a delicious chocolate scent and flavor.  We finish it with a little peppermint essential oil.